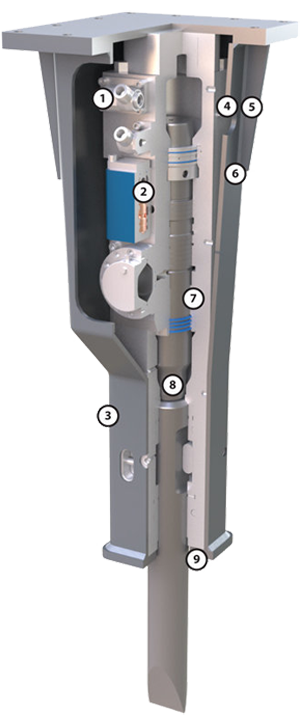 The breakers of the FX series, thanks to their power and efficiency and to the right relationship between weight and power are suitable for secondary demolition work, excavations in quarry, work in urban areas, galleries, pipelines and railway tunnels and, concerning the biggest models, demolitions in open pit mining. Fourteen (14) models available for excavators with operating weight from 8 to 200 tonne.
Tubes with swivels fully protected from any bad uses and resistant to vibrations in case of lack of nitrogen in the chamber.
Regulation of the operating pressure For the FX series (FX1000-FX15000) it is possible to regulate the working pressure by a manual adjusting valve located frontally on the distribution of the breaker.
Anti-dust and for underwater work set up By blowing air into the proper hole in the front part of the breaker with a pressure not less than 10 bar you can prevent the entry of dust and water into the breaker.
Automatic hydraulic greasing device (optional, mounted on the breaker) The Beka-Lube automatic lubrication system optimizes the lubrication procedure and reduces maintenance and downtimes.
Automatic hydraulic greasing device with exclusive Hammer electric control (optional, mounted on the excavator) Innovative electric system with automatic grease distribution, less liable to vibration breakages thanks to its own tank of grease with a capacity of 4 kg or 8 kg, making thus the system cheaper than all the other devices with cartridges.
Blows manual adjustment For the FX series (FX1000-FX15000), the regulation of the blows is carried out manually by an adjusting valve located on the side of the breaker.
Hydraulic system for blank firing The hydraulic system is a regenerative circuit of oil that avoids blank firings when the tool is not in contact with the rock.
Piston constructed with a special geometry such as to keep a constant energy of impact, as well as reducing breakages in conditions of criticality
Anti-dust system for galleries (optional) The anti-dust system provides for the addition of a dustproof seal mounted in the lower bush so to avoid the entering of impurities in the circuit.